Born In the Trunk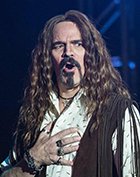 I was born into a family of performers. My mother was a dancer and fashion model. My father was a magician and entertainer with his own television show. When I was a kid, I thought everybody's dad was on television. It was all very normal to me. As a kid, I got to meet some terrifically interesting people and see some wild stuff traveling around with my dad. It was kinda' like living the movie, Big Fish. Naturally, I did a lot of theatre in high school and I landed my first professional, paying theatre gig at age 14. After I graduated... blah, blah, blah... bought a '63 MG Midget for $600... blah, blah, blah... half'a case of dynamite... blah, blah, blah... took off to find fortune and glory in the big city!
I'm a graduate of the oldest acting school in the country, The American Academy Of Dramatic Arts in New York City. I'm a trained actor, not a self taught "radio talking announcer guy". Not that there's anything wrong with that, some of those guys and gals are great friends and quite good at what they do. It's just not MY thing and you're here to find out about me. So, hey. Anyway... for the past umpteen years I've worked steadily in theatre and film. For a while I even "sunlit" as a film camera operator and off-line video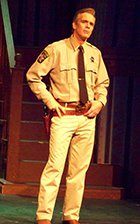 editor at a production house. I've worked as a recording engineer at a commercial audio studio and I've even done a good bit of special EFX design and rigging. (See?? ... there's the tie-in to the "Dad was a magician" thing.) The point is... I've been on the technical side of production and I really LOVE it. Because of this, I understand the process from both a technical AND creative point of view.
I do a nice bit of film work and a BOATLOAD of live theatre. My wife's and especially my daughter's friends have NO idea what I really look like. I'm constantly changing the color of my hair or growing some wacky beard or mustache for a role.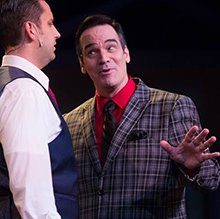 As a voice actor, I get to work from home in my pajamas in a really cool studio. (See more about that in the section below. The studio part, not the pajamas part.) One of my favorite things about doing what I do??... I get to be somebody different with every job. I love this business.
(BTW... flannel with little Yodas on 'em.)